The free evaluation version allows you to try all available features of the FolderMill – server-side document conversion and printing software.
Latest release – Version 5.1 (October 24, 2023)
New Action: Crop document
New Action: Resize document
New Action: Insert file
New Action: Upload to HTTP
New Action: Filter by page color
Ability to use SSH keys for higher security (for Source: FTP and Upload to FTP Action)
Convert to Image Action: new options for Fit mode setting: Thumbnail (fit rectangle and fill color), Stretch (do not keep proportions)
Ability to set logon not only as "LocalSystem" but also as a Windows User Account (available when FolderMill is running in service mode)
Rarely used or 'under development' features and Actions are now hidden by default; can be changed with Enable extended features setting
PDF bookmarks are now created using filenames of files being appended when Convert to PDF Action + Append to existing file is used
Limitations of the Free Version
The free version of FolderMill is a full-featured version of the program, except that it adds a small watermark "Created by free version of FolderMill" to every converted page or image. And a cover page is inserted between every printed document.
Alternatively, you can choose to add a watermark to your printouts (instead of inserting a cover page) or output files. You can do it in the program's General Settings.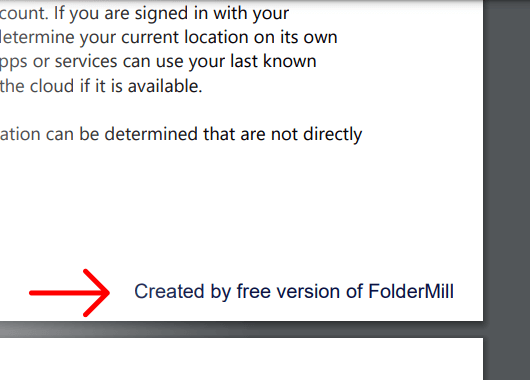 Trial Version
If it is essential for you to test the program with no limitations, you can request a trial version. The trial version of FolderMill works exactly like the full-featured commercial version, but it is time-limited by two weeks (14 days). Please get in touch with us if you want to get it.
System requirements
Microsoft Windows 11 / 10 / 8 / 7 (32-bit or 64-bit system)
or Microsoft Windows Server 2008 / 2012 / 2016 / 2019 / 2022 (or newer)
Intel Core i3 or AMD Athlon II X2 processor or better processor
4 GB RAM or more
Hard Drive free space: 255 Mb for program files, min 100 Mb for output files (depending on expected charge), 100 Mb of system disk space for a swap-file
Required software: Microsoft NET Framework 4.5