Watch Hot Folders and
Automatically Process Incoming Files
FolderMill is a server-side application that watches defined Hot Folders and automatically converts incoming files or prints them on a specified printer. It processes incoming documents according to pre-defined rules on a server, workstation, or desktop PC in a corporate environment.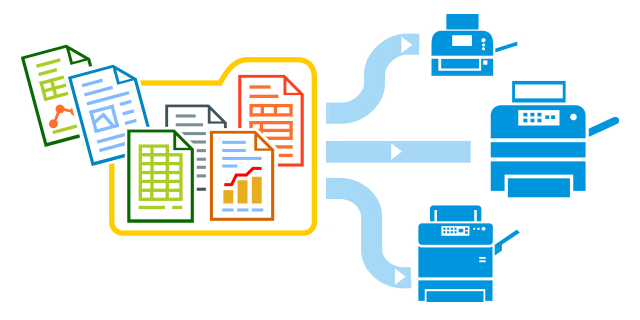 Convert Files to PDF, PNG, JPG, or TIFF
FolderMill automatically converts incoming Word documents, PDF files, Excel spreadsheets, HTML files, images, and other document types to PDF, XPS, JPEG, PNG, or TIFF format.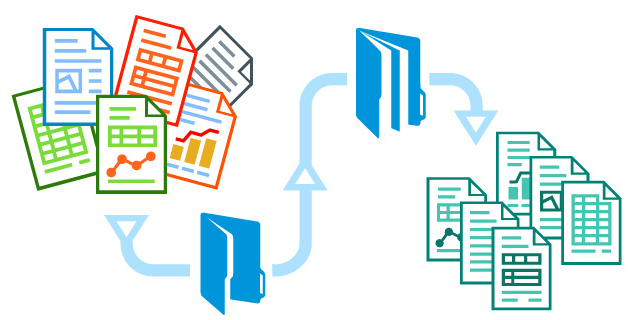 Quick Start
Install FolderMill on your computer;
Set up a Hot Folder and add Actions;
Click Start;
Drop files into the Incoming folder;
Get converted files in the Output folder or printouts from the printer.
Tip: Share a Hot Folder within the office network and let your colleagues create desktop shortcuts to access them quickly.
Use Different Sources and Outputs
Different file sources and destinations are available. As a source, you can use a local folder, a shared folder on a mapped or network drive, an email box (IMAP, POP3), or an FTP (FTPS, SFTP) folder.
As an output, any printer, a specified folder, email box (via SMTP), or FTP directory can serve. If needed, you can select multiple destinations: folders, printers, or FTP servers!
Key Features
Advanced Document Converter
FolderMill automatically converts incoming documents to PDF, XPS or image files – JPEG, PNG, or TIFF. Besides, you can set color mode, output quality, and resolution.
Flexible Processing Rules
Several processing Actions for each Hot Folder are available, e.g., documents can be filtered by mask, printed, and converted to PDF. You can combine several Actions at the same time!
Automated Hot Folder Printing
FolderMill automatically prints incoming files on a specified printer. It's also possible to send the same document to several printers.
Wide Range of Supported File Formats
FolderMill can process all popular types of office documents, including Word docs, Excel spreadsheets, Adobe PDF files, CAD drawings, Zebra ZPL labels, images, HTML pages, and many others.
Integration with Document Processing Systems
FolderMill can silently work 24/7 on your Windows or Windows Server system. It can be easily integrated into existing workflows thanks to its ease of use. Basically, no GUI is needed for the end-users to utilize FolderMill.
Reliable Logging and Job Tracking
Set destination for output and processed files, check the status of each job in real-time via built-in Task manager, log document processing flows and receive alert emails in case of any error.
Extremely Easy to Use
Document processing is very easy from the end user's perspective. They just copy an original document into the Source. Then, processing starts automatically. The converted files appear in the output folder or printouts – in the printer tray.
With FolderMill, end-users don't need to install any additional software or print drivers on their PCs. A user just needs to copy and drop a file into the Hot Folder in order to convert or print it. Basically, GUI is not required to use FolderMill.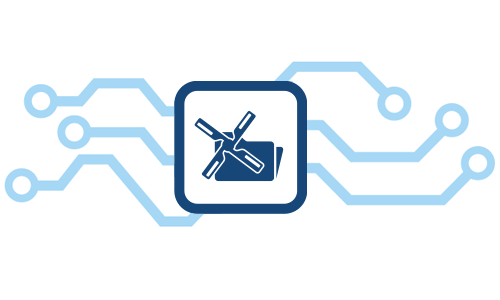 Hot Folder Solution for Various Industries
Both large- and small-scale businesses benefit from FolderMill designed to simplify document management.
FolderMill found its place in many companies from these and other areas:
Banks and the financial sector
Law firms
Governmental and nonprofit orgs
Healthcare
Construction
Retail and wholesale
Logistics
---
Advantages
User-Unattended File Processing System
FolderMill can work 24/7, seven days a week. With this software, you can set up a user-unattended and uninterrupted file processing conversion and printing system, requiring minimal IT support. FolderMill can help you get rid of manual operations, ease the burden on IT support, and reduce costs on hardware and software and maintenance of the print servers.
Automated Document Printing to Different Locations
Simplify and automate your everyday work without the need to open up each file individually. Distribute document printing between different printers and printer trays using page range and copies selection, file name/file type/file contents/page size filters, and macros. Once new files appear in a Hot Folder, they will be instantly sent to one or multiple printers.
Great for Archiving Purposes
FolderMill can be an archiving solution for long-term retention, compliance, and digital preservation of documents. Get your document files compressed and saved in a local, network-shared or FTP folder. The program supports the PDF format that can be used for archiving documents in the long run.
Highly Flexible Configuration
Create various Action scenarios within a Hot Folder so that FolderMill does all the work for you. Combine different actions, e.g., filter by file name, converting to PDF or image, copying to a specific folder, and printing to several printers. You can set a rescan period, prioritize Hot Folders, sort output files, and more.
Reliable Processing Engine
FolderMill works stably in both service and application modes. It can handle a large number of files and can work 24/7. During our regular performance tests it successfully processes 11000 different files. For faster processing, multitasking mode will let you increase the number of simultaneous threads utilizing the CPU cores most effectively.
Cost-Effective Solution
Install FolderMill on one PC only to do all the file processing. Get people connected to the output folder within the office network. Profit! That will surely be cheaper than buying file processing software for each workplace. This program can be a great solution where expensive document management software would seem like overkill.
Customer Testimonials
We've included FolderMill into our document workflow as incoming gate by adding straightforward processing rules and convert all documents to Tiff.
— David Murray, Senior Analyst
Now we don't need to set up hardware, just put document to incoming folder and it will be printed on our Laser Printing Machine automatically.
— John Moore, C Developer
FolderMill allows our Analyst, when done reviewing data, to drop Word results into a folder and FolderMill then picks them up and converts them to a PDF. It saves quite a bit of time. Previously we would have to open each Word doc separately and either print or save as PDF.
— Matthew Wright, Radeas Labs
Next
Licensing and Availability
Download a free version of FolderMill to evaluate the software and use it for non-commercial needs. The free version allows you to try all of the program's features. The only thing that differs from the commercial version is a "Created by free version of FolderMill" text watermark applied to every output document.
The commercial version of FolderMill is a one-time purchase and comes subscription-free. Affordable price, free minor updates, free technical support from the developers. Depending on your business needs and requirements, choose a licensing option that suits you:
This license lets the user install, activate and run FolderMill under one Windows user account. The price for this license is $499.
This license lets all corporate users use FolderMill in all company offices and on all servers covering multiple users at a location or across an organization. The number of users is unlimited.
Any type of license is perpetual. It is a one-time purchase, with no recurring fees. Volume discounts are available starting from 2 licenses. A special price is available for governmental and non-profit organizations. Resellers and partners are welcome to join our worldwide distribution network! Please get in touch with us for more information.