The workflows of different businesses often need a solution which can print to multiple printers simultaneously or print the same document on different printers. Below is a case from one of our customers.
Case:
Our marketing department needs to print flyers for our newest devices on 50 different printers. We would like to be able to print all the flyers to the various printers without having to print each flyer manually. Can you help?
Solution:
Printing flyers to 50 different printers at the same time can certainly seem like a challenging task. We do have a product that will automate sending print jobs to multiple printers. That product is FolderMill.
FolderMill can help you with associated tasks such as:
print to specific printers and printer trays
print one document to multiple printers
print to two or more printers simultaneously
work as a print server for multiple printers
automatically select paper source for each document
FolderMill is designed to be installed on one of your servers and allows everyone connected to the server to take advantage of its Hot Folders. To set up automatic printing to multiple printers at the same time, all you need to do is create several Print Document actions on FolderMill Control Panel and assign a printer for each print job.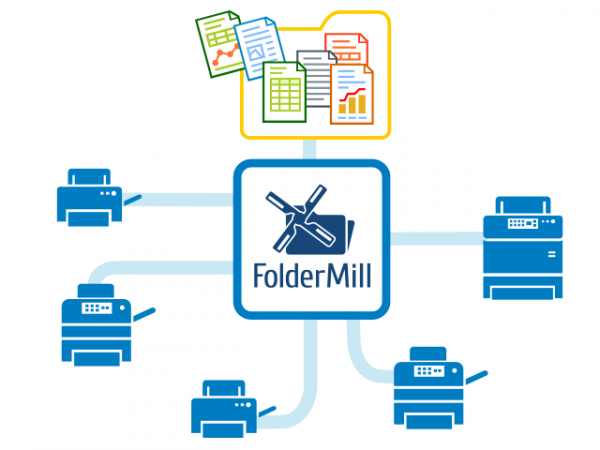 Automatic Hot Folder printing
The Hot Folders are created on the Control Panel. They are configured to carry out specific tasks each time a document is placed into the folder. Each folder can be set up to perform a print task with unique settings. In our customer's case, each folder can be configured to print flyers to multiple printers at once.
Once configured to print to all your printers, the Hot Folders will take care of printing your flyers for you. For each type of flyer, you can set different print options, such as printing some flyers in color, others in black and white, set page scaling and orientation options and whatever else you may need.
Depending on your needs, you can either create a couple of Print Document actions within one Hot Folder or create different Hot Folders — if you have many sources for incoming documents.
Instruction
Create a new Hot Folder. If you want to set up some filtering of incoming flyers, you can use a filter-based action: by filename, by paper size or file contents.

Filter by filename will process only files with a particular file name, e.g., flyer_001.psd;
Filter by paper size will handle only files with certain page size dimensions, e.g., less than A2 and equal plus more than A4;

Filter by file contents will process only files containing specific text — it will work if your files are searchable PDFs.

Filename and file contents filters can be configured not only to allow processing but also to ignore certain files. For paper size filter, you can set a specific range of document dimensions (mm, cm, inch) valid for processing.
Alternatively, you can do without the filter-based actions just by creating several Hot Folders with Print Document action.

Make necessary print options and apply changes to the Hot Folder:

In the same Action Set, you can add several Print Document actions and select different printers:

Alternatively, if you need different incoming folders, just create more Hot Folders:

Once all the settings are made, start FolderMill processor by clicking the Start button. Copy the flyers to the Incoming subfolder of a Hot Folder. 
FolderMill will detect a document placed in the Hot Folder and will automatically and immediately carry out the print task assigned to it. Moreover, mistakes and errors are now a thing of the past for your marketing department. Now every new flyer will be printed correctly.
Automatically select paper source for each document
There's one more feature which can help you to automate printing on multiple printers. FolderMill can distribute documents to certain printer trays depending on document page size — and do it automatically (without using the Filter by paper size). For example, if a document is an A4 format (page size is 210 x 297mm), FolderMill will pick the printer tray closest to 210 x 297mm dimensions. To enable this feature, add Print Document action, press Ctrl + Alt + I keyboard combination, find line ChoosePaperSourceByDocPageSize=0 and change its value to 1.
Summary
Once set up and running, FolderMill will automate printing your flyers across all your printers. It should make operations much smoother and provide more time for your marketing experts to focus on their most important task — promoting the new products designed by your company.
Now your marketing department can focus more on showcasing your new products and less time worrying about manually sending print jobs to different printers. Once an employee completes designing a flyer, all they need to do is place it in their corresponding incoming folder, and they can start working on the next flyer.
If you need assistance with setting up FolderMill for your needs, please contact our team. We will give you the exact configuration steps or come up with an alternative solution.