We want to contribute to the fight against Coronavirus and support the healthcare industry during the ongoing global crisis.
Healthcare organizations around the world can now request a full-featured version of our batch printing and automation software free of charge. We offer them our two flagship products for free: Print Conductor and FolderMill.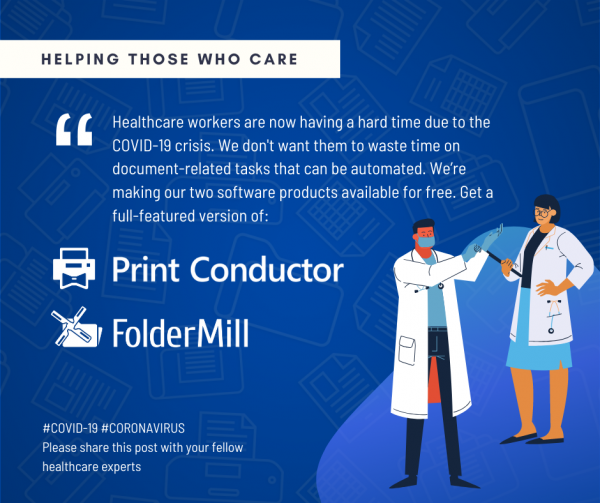 FolderMill is already widely used in many healthcare centers, clinics, hospitals, and other medical facilities. Time is a valuable resource, especially during the COVID-19 pandemic. Our program can help efficiently organize document processing by automating printing of files, processing of DICOM images, PDF to TIFF conversion for a medical record system, and other file-related tasks.
Besides, FolderMill can be the right solution in terms of data privacy and security. It works via Hot Folders, which can be mapped to any local or shared folders within a LAN. Therefore, it can be used with a single organization only – without sending data through the Internet for file processing. Thus, using FolderMill does not violate patient privacy and keeps personal health information secure.
We hope that we can help many doctors and administrative personnel to start saving their precious time thanks to Print Conductor and FolderMill. If you know healthcare industry specialists who might benefit from this offer, please feel free to share this article with them.
Learn more about Print Conductor at:
www.print-conductor.com
Request free license and learn more about our campaign at:
www.fcoder.com/news/covid-19