Case:
Is it possible to split a single PDF file into multiple PDF files by page ranges with FolderMill? For example, a single PDF output file contains letters for multiple clients; each client letter is 3 pages. Currently, FolderMill allows me to split a PDF into one-page files. However, I need these letters to be split into 3-page increments:
Page 1-3 for Client 1
Page 4-6 for Client 2
Page 7-9 for Client 3, etc.
Solution:
Yes, you can divide a large document into different parts. FolderMill can extract pages from documents not only as single-page files but also as separate combined files containing only required pages. To automatically separate PDF or TIFF files into pages, set a unique page range for each Action when configuring the Convert to PDF or Convert to Image (for TIFF format).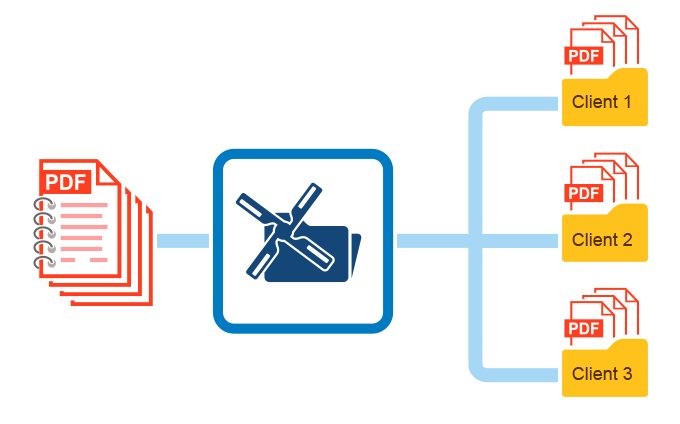 How to split PDF by page ranges step by step:
Create a new Hot Folder. 
Add a new Action Set and select Convert to PDF Action

Having this window opened, press Ctrl + Alt + i on your keyboard to open advanced Action settings:

Set the desired page numbers for PageRange within double quotation marks, e.g., "1-3,7,10-15". Then click OK.

Repeat these steps by adding more Convert to PDF Actions within this Hot Folder (in the same or a separate Action Set) with specific page ranges for different clients:

| | |
| --- | --- |
| Client 1 | PageRange="1-3" |
| Client 2 | PageRange="4-6" |
| Client 3 | PageRange="7-9" |

Tip: If you want to send only the first page to one folder, and all the rest of them to another, you can configure Actions like this: PageRange="1" and PageRange="2-999".

Don't forget to specify a different subfolder for each recipient (e.g., C:\FolderMill Data\Hot Folders\1\Output\Client 1). In the end, you should have something like this:

Click OK, then Apply Changes and start real-time processing by clicking the Start button on the FolderMill Control Panel. 
Similarly, you can configure FolderMill to split PDF or another multipage document into TIFF-pages. In this case, select Convert to Image Action, select Image format: TIFF and follow the same procedure.