Due to Google Cloud Print being discontinued at the end of 2020, you can consider FolderMill as an alternate print solution. Let's take a closer look at how FolderMill can fit into a company's printing infrastructure.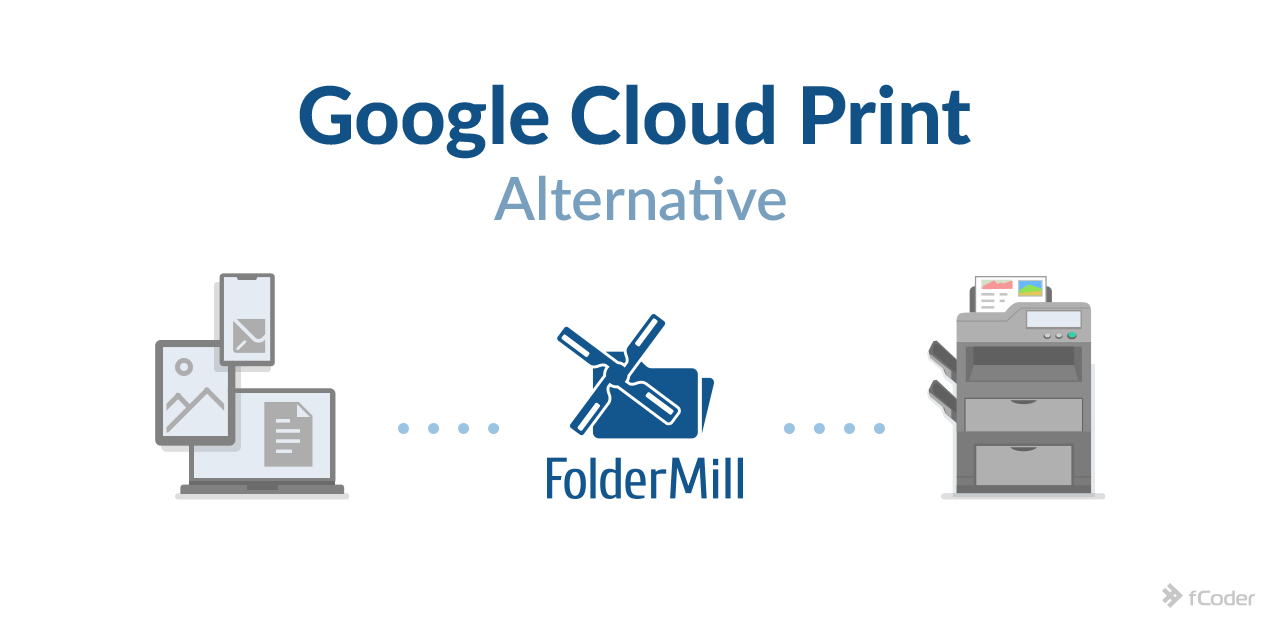 With FolderMill, you can do pretty much the same as you used to with GCP – quickly send documents to the desired printer for immediate printing. Compared to Cloud Print, FolderMill uses a different interface – users just copy files to regular Windows folders. FolderMill starts monitoring these folders, and printing is performed immediately after a user drops new files there.
And like Cloud Print, FolderMill allows you to send print jobs from a web-connected device (a desktop PC, a tablet, a laptop, or a smartphone) with the use of folders being monitored.
FolderMill vs Google Cloud Print: things in common and what's different
FolderMill
Google Cloud Print
End-user interface
Any device that allows copying files to folders to a local or network drive folder; server requirements: Windows XP SP 3 (or newer) or Windows Server 2003 (or newer)
Any web-connected computer, smartphone, or tablet with Google Chrome functionality; server requirements: Google Chrome browser and Windows 7 (or newer) with Microsoft XPS EP
How to print
Automated printing by copying files to any Windows folder (defined by FolderMill as "Hot Folder"). Files can be sent to any printer locally, via the Internet, or printers within a home/office network.
Printing from any web-connected device to a cloud-connected printer. Printing can be done from various devices: PC with Chrome browser, Chromebook, Android/iOS device (smartphone or tablet).
Supported printers
Ability to print to any physical or virtual printer available in your Windows system or remote printers through Google Drive/OneDrive/Dropbox folders.
Ability to print to any cloud-connected printer ("Cloud Print Ready" printer) or a "classic" printer connected directly to PCs (for example, via USB cable) as well as networked printers (Ethernet or WiFi).
Requirements for remote printing
Printing to a remote printer requires a running computer (a workstation or server PC) connected to the Internet with FolderMill installed plus a Google Drive/Dropbox/OneDrive account or a configured computer network.
Printing to a non-cloud printer requires installing Google Chrome and the use of a connector, a small piece of software distributed with Google Chrome that runs on a PC where the printer is installed. The PC must be running and connected to the Internet in order for print jobs to get to the connector (and hence the printer).
Things in common
Designed to simplify print environments. Can be used in schools, banks, and other enterprise-scale organizations.
Remote printing. End-users can print remotely and outside the network by sending print jobs over the Internet.
No need to install printer software, printer drivers or native applications for opening specific file types to the client (the end-user PC).
FolderMill's unique features:
Ability to print industry-specific formats (e.g., CAD drawings) via native software API, without intermediate conversion to PDF
Printing by filter mask, watermarking, converting to PDF or images and other Actions that can be combined with printing: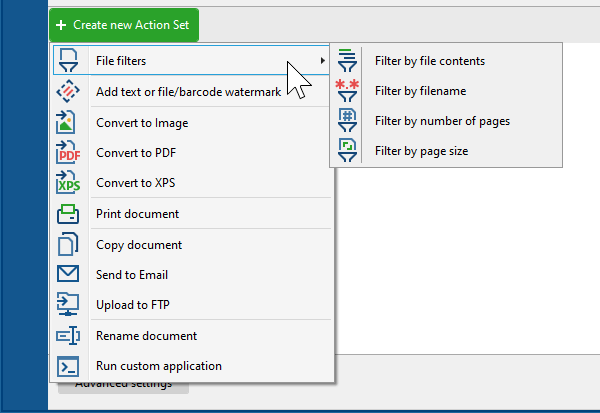 About Google Cloud Print
Google Cloud Print is a cross-platform service from Google that supports cloud and virtual printing via various devices (PC, smartphone, tablet) from the Chrome browser on Windows/Mac/Linux/Chrome OS systems. To use it, you will need a Google account and a printer with the "Google Cloud Print Ready" icon, indicating support for this technology, or a printer directly connected to a computer with a Chrome browser installed, or a print server.
One of the key advantages of Google Cloud Print was the ability to print from a mobile device (IOS/Android smartphone, laptop, or tablet). The service was also focused on eliminating the need for complex network setups to make print sharing work. Any user could quickly send files to a printer without the need for complex setup and driver installation. Unfortunately, Google's cloud-based printing solution will no longer be supported as of December 31, 2020.
Ready to migrate from Cloud Print?
If you are looking for a solution with similar functionality to Google Cloud Print and if you are not sure whether FolderMill will suit your needs, please contact us. We will advise you and offer a proper solution depending on your print-related tasks.
---
Google, Google Cloud Print, and related marks and logos are trademarks of Google LLC. All other company and product names are trademarks of the companies with which they are associated.